The Darjeeling Himalayan Railway Society is a company limited by guarantee, registered in England and Wales, no. 7406570. Registered office: 1 Interfields Cottage, Lower Interfields, Malvern, England, WR14 1UU
Web site designed in-house by DHRS © 2022

Welcome to the DHRS
To promote awareness of, interest in and support for the Darjeeling Himalayan Railway




09/12/21
Visiting India from Europe
With the spread of the Omicron strain of COVID, with effect from 1st December 2021, India has imposed a compulsory 7-day home isolation period for all international arrivals from Europe, including the United Kingdom. This is very much in the light of the poor infection results in Europe, as India's infection rate continues to remain at low levels, particularly away from Mumbai and the south of the country.
As a result of this, tours planned to India for the first quarter of 2022 have been postponed, pending relaxation of the isolation restriction.

DHRS Photo Archive website, containing thousands of pictures Indian Locos, trains, people and places collected together from many society members Dhrs.org/archive


DHR promotional video
Issue 96, November 2021
of the Darjeeling Mail has been posted.
Photos of our 2021 AGM can be seen on the
AGM page
Along with a written report on the AGM.
The 2022 AGM is booked for 28th May 2022 usual location.
Link to Google Arts & Culture page for Indian Railways
Link to the new Indian
IRCTC Tourism web site
Link to Indian Hill Railways web site



A Driver's eye view from Tindharia to Darjeeling!
At last. A DVD offering extensive coverage of the DHR, mainly taken from the front of the locomotive. For the first time ever, video production company Video 125, in association with the DHRS, has produced a Driver's eye view of the Railway. This will be published in two parts: part 1 - New Jalpaiguri to Tindharia, and part 2 - Tindharia to Darjeeling.
Part 2 is available now, and was filmed on board 'B' class locos hauling the steam charter train on its second day, starting at Tindharia and continuing to Darjeeling.
Much of the fascinating history of the line is in Jonathan Kydd's narration. Written and produced by Peter Middleton, edited running time 2 hours 24 minutes.
For those with a strong interest in the DHR, this DVD is essential viewing.
We regret that part 1 from New Jalpaiguri to Tindharia has been unavoidably delayed. We need a small number of 'fill-in' shots which need to wait until a service is running again on the DHR.
The full retail price is £25 for a DVD or £30 for Blu-Ray but a special offer is available for DHRS members only, see our sales website :-
https://www.dhrs.org/sales2/contents/en-uk/p55232_Tindharia-to-Darjeeling!.html


Having ridden / chased the DHR over about 40 years, it is great to see the track from the front of a loco, rather than looking sideways from the carriage or chase vehicle. This video is very well presented showing most of this part of the line with a few clips from the chase vehicle and drone shots. The commentary is informative about items to be seen along the line, without being intrusive to the viewing. I found this railway video one of the best I have viewed and can recommend it to people who have visited the line or the 'armchair' tourist who would like to dream of Darjeeling, its mountain views, people of the area and The Railway. Mick Melbourne Webmaster
Trailer for the video - https://youtu.be/Itawwe7jbre
We hope that Part 1 of the 'Driver's Eye View DVD covering New Jalpaiguri to Tindharia will be out early in the New Year. As soon as it becomes available, we will announce it on this website and we expect to have more details in the February 2022 issue of the Darjeeling Mail
New Google Arts & Culture page with stories about DHRS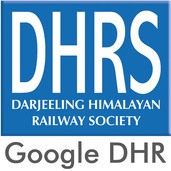 The DHR and COVID-19, see this link for details
http://www.dhr.in.net/train-schedule.php

Also see new UK-India Covid rules - (see box on left)
- - - - - - - - - - -
Fresh snow in Ghum, December 2021
- - - - - - - -
DHR Awareness Programme November 2021
Report from the Inner Wheel Club
on DHR Inner Wheel page
New book - "Up the Line to Darjeeling"
Many of you will remember David Charlesworth's series in the Darjeeling Mail describing the route and what there is to see from the train as it climbs from track side markets in Siliguri to the highest Himalayas.
As a result of that series, much additional information has been incorporated into this book which will become the definitive description of the route, with many detailed maps and plans. It is not to be missed by anyone with any interest in the DHR.
Gloss laminated soft cover with 128 pages with SEWN BINDINGS, 282 x 210mm Price £ 24.95 plus postage
After suspension of the NJP-KGN section
(covered by a road service) for three months due to a landslip between Tindharia and Mahanadi,
rail services resumed today. 22/01/2022