The Darjeeling Himalayan Railway Society is a company limited by guarantee, registered in England and Wales, no. 7406570. Registered office: Lime Tree Lodge, Thorpe Road, Mattersley, Doncaster, DN10 5ED
Web site designed in-house by DHRS © 2023

The incredible 'B' Class by David Churchill
At last, the definitive story of Darjeeling's 'B' Class locomotives.
The history, build details and operating practices, and it includes detailed plans for model makers too. It expands considerably on the knowledge base we have from previous publications. Written by David Churchill, an authority on Darjeeling Locomotives, it balances diligent research with information from the DHRS archive and the support of friends with specific expertise. The book also covers the locomotives initially delivered to the Raipur Forest Tramway and those subsequently sold to Coal India to work at Tipong in Assam. No-one with an interest in the DHR or the surrounding area should be without it.
Gloss laminated soft cover with 128 pages with
SEWN BINDINGS, 282 x 210mm.
Retail Price £22.50 Plus p&p
"Extraordinary publications about extraordinary railway" that we have for sale
The story of 19B
The only DHR 'B' Class ever to leave India!
by David Charlesworth
In 2002, Adrian Shooter, purchased a special locomotive from the Hesston Museum in the USA. It was a Darjeeling 'B' Class, the only one ever to leave India. Its arrival back in the UK, the place of its birth, was the result of a series of connections and two special people prepared to dig deep into their own pockets in the interest of preservation and museums, for people to enjoy and learn for generations to come. Since it was returned to full working order, it has proved that few engines are better suited to operating on the various 2ft gauge lines in the UK and Europe.
Written and produced by David Charlesworth.
A5, 32pp plus 4pp cover. Full colour.
Retail Price £6.95 plus p&p
India – No Problem Sahib
Some of us have been lucky enough to have toured India when steam was the main form of propulsion, and there was a wide variety of steam locomotives remaining, many of which had survived from the British Raj era.
This volume, by David Charlesworth GRA, Peter Jordan and Richard Paget, covers the last years when steam was common, between 1979 to 1989. 96 pages and 271 photographs with detailed and informative captions. If you were lucky enough to have experienced India during this period, it will bring back innumerable fond memories: if not, it is an excellent record of what you missed!
Retail Price £24.95 plus p&p
DARJEELING'S RAILWAY IN PICTURES
The Digital Years
68 pp, 297 x 210 mm, full colour throughout, softbound. This delightful book featuring full page photographs of the DHR as it is today from Peter K Jordan (Edited and produced David Charlesworth GRA with contributions from, Bob Avery, Eddie and Enid Lang and Michael Chapman). Informative captions with a brief history and a diagram map of the line.
Retail Price £14.95 plus p&p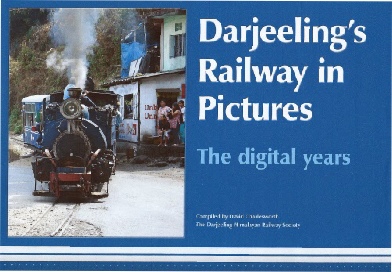 Darjeeling's Wonderful Railway
This long-awaited publication is the first dedicate tourist guide the the DHR for a considerable number of years. Full colour with a revised map of the line, chronological history, a chapter on "Getting to" and "Riding the DHR" with sections on tea, locomotives, rolling stock and flora and fauna. Written, designed and produced by David Charlesworth, with major contributions from Richard Wallace and specific chapters from David Churchill, Peter Tiller, Paul Whittle, Peter Jordan. Printed in India we have succeeded in keeping the cost down to a very affordable price.
Proved in fact, by sales in Darjeeling starting the moment the book was seen.
Gloss laminated soft cover with 40 pages, 283 x 210mm.
Retail Price £7.95 plus p&P
A Driver's eye view from Tindharia to Darjeeling
For the first time ever, video production company Video 125, in association with the DHRS, has produced a Driver's eye view of the Railway. This will be published in two parts: part 1 - New Jalpaiguri to Tindharia, and part 2 - Tindharia to Darjeeling.
Part 2 is available now, and was filmed on board 'B' class locos hauling the steam charter train on its second day, starting at Tindharia and continuing to Darjeeling.
The sunny weather, coupled with stabilised state of the art cameras, provide a spectacular smooth view of the line as never seen before. Our iconic 'B' class steam engine climbs relentlessly through the magnificent scenery over gradients as steep as 1 in 18! Following the Hill Cart Road most of the way, we cross it dozens of times to ease the gradient or lessen a curve. We run on the very edge of the mountains, squeeze through the narrowest of ledges and pass through towns and villages to the summit of the line at 7,407 feet above sea level at Ghum.
Much of the fascinating history of the line is in Jonathan Kydd's narration. Written and produced by Peter Middleton, edited running time 2 hours 24 minutes.
Price from £21.00
Up the Line to Darjeeling
Many of you will remember David Charlesworth's series in the Darjeeling Mail describing the route and what there is to see from the train as it climbs from track side markets in Siliguri to the highest Himalayas.
As a result of that series, much additional information has been incorporated into this book which will become the definitive description of the route, with many detailed maps and plans. It is not to be missed by anyone with any interest in the DHR.
Gloss laminated soft cover with 128 pages with SEWN BINDINGS, 282 x 210mm Price £ 24.95 plus postage